Seaberg Construction had a great time exhibiting at the 73rd annual Rhode Island Home Show at the Convention Center in Providence! This is our second year as exhibitors and we've learned more after each show. The first time we were supposed to exhibit was in March of 2020, but we all know how that went. The show was postponed until March 2021 and then postponed yet again to March 2022. Our first show had been a long time in the making, we've just completed our second show and are planning to exhibit in 2024 as well.
Wednesday, Home Show Set Up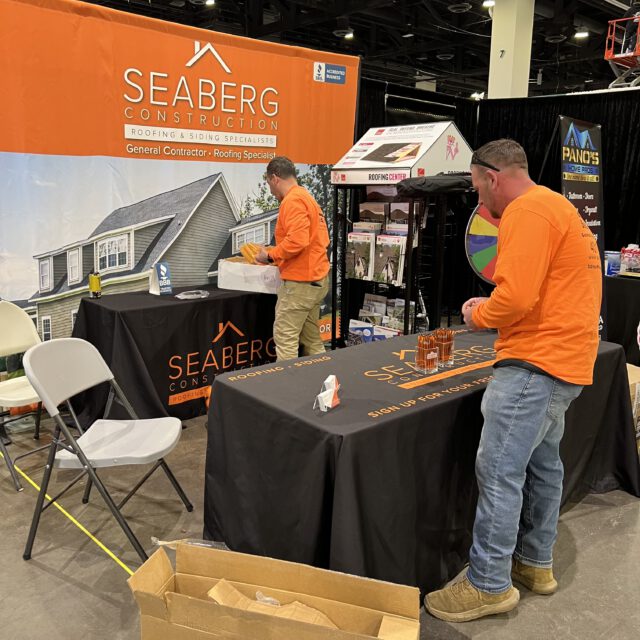 Seaberg Construction was given a 2 pm set up time on Wednesday, March 29th, 2023. Our booth was a 10-foot by 10-foot box. This year, we knew exactly where to place our displays because we mapped it out in our shop last year ahead of the first show we participated in. Set up this year was a breeze. We even requested the same booth location as last year because it was next to the loading dock, concession stand, bathrooms, and bar! What else could we possibly need?
Thursday, Home Show Day 1
The show started on Thursday, March 30th, 2023 from noon to 9 pm. Jon, Adam, and the Office Manager, Laura DePaul were camped out at the booth to greet homeowners and pass out giveaways with our imprinted logo.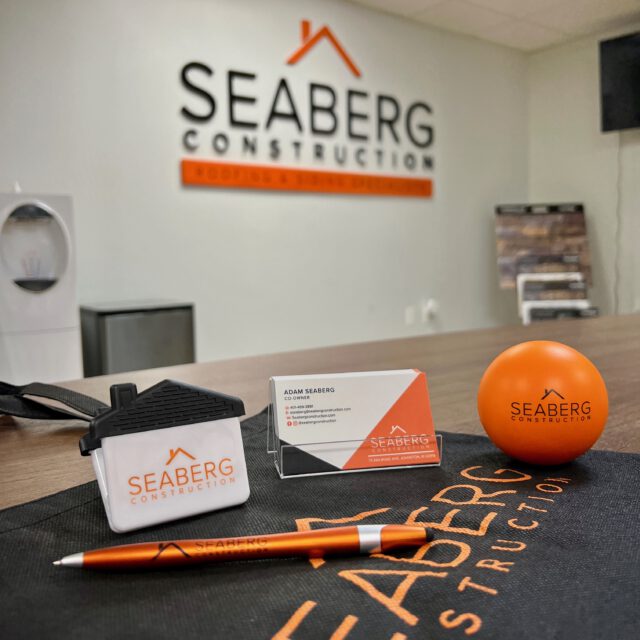 We had the above giveaway items at last year's home show and they proved to be popular with a lot of homeowners, especially the chip clips. You can never have too many chip clips! We were glad to hear that several homeowners mentioned that they still had their chip clips from last year's show.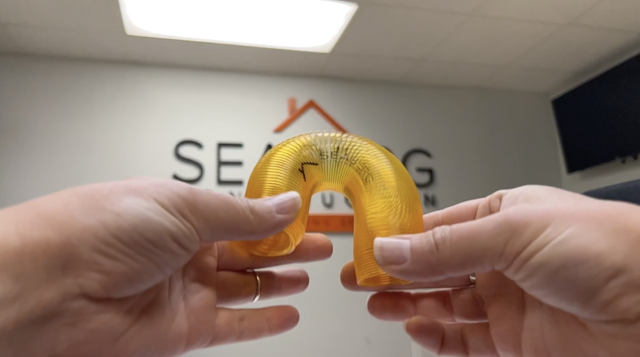 This year, we added slinkies to the mix because who doesn't love a slinky? The nostalgia alone was worth the investment. The slinkies were a hit among adults and children alike!
We also had orange carpenter pencils made with "Seaberg Construction" imprinted on them. The homeowners who knew what a carpenter pencil was enjoyed them while many others said, "How in the world do I sharpen this?" while placing one in their bags of loot.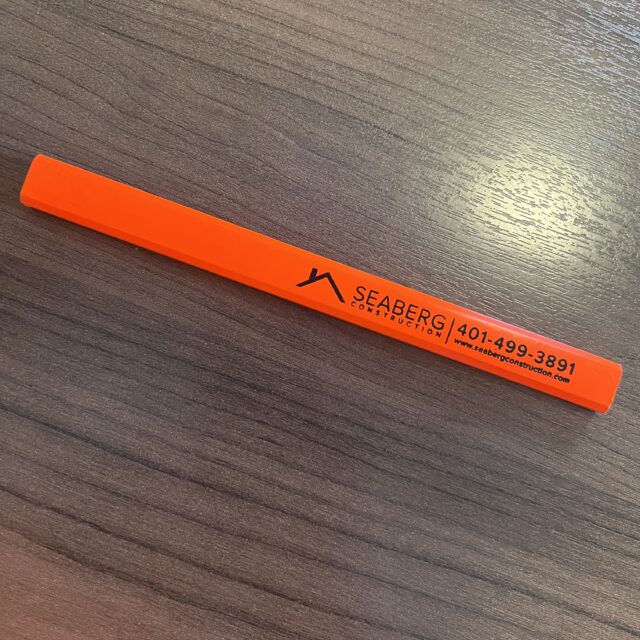 Thursday ended with a handful of leads and an overall smooth, easy day. Nothing we couldn't handle. It was almost a relaxing time handing out free goodies.
Friday, Home Show Day 2
The show continued on Friday, March 30th from noon to 9 pm again. Last year, the organization in charge of the show gave us some advice which was the serious homeowners show up on Thursday and Friday before the chaos of the weekend ensues. We found that to be mostly true. On day two, we had Jon, Project Manager Matt Foss, and Laura manning the booth. Adam was on family duty in Las Vegas for the upcoming week celebrating his brother, Ryan's, retirement from the Air Force. While Adam was torn about missing the Home Show, we insisted he went to celebrate his brother's achievement with family. Family always comes before business.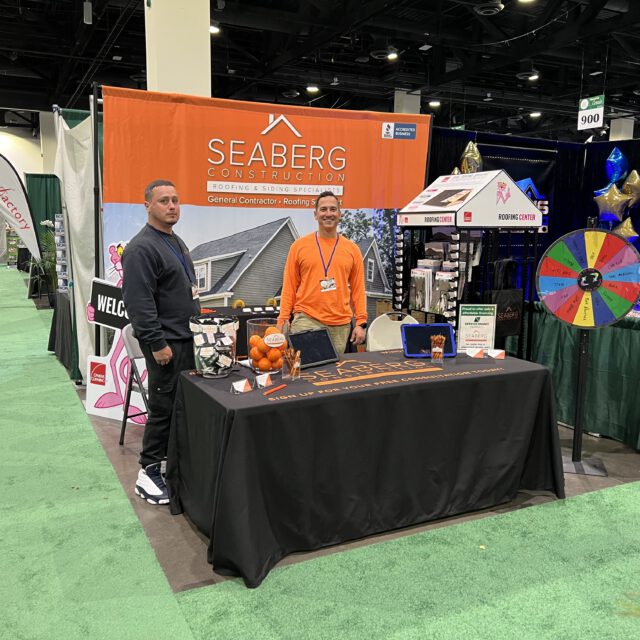 Speaking of family, Jon's brother, Joe Nickerson, came by to lend a hand with his 4-year-old daughter, Aliyah in tow. Joe is one of our Project Managers at Seaberg Construction. Joe is likable, outgoing, and fun-loving. Aliyah was cute as a button in her Seaberg Construction attire and was truly the star of the show passing out business cards to everyone she walked by.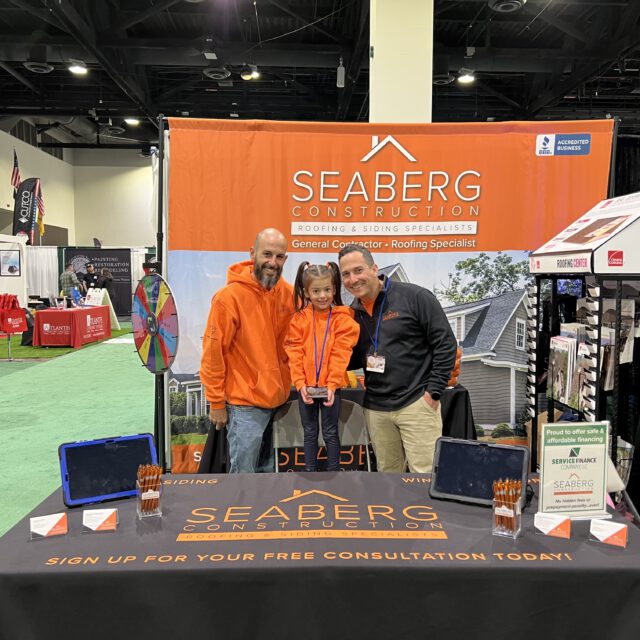 Day two was another success and a quick nine-hour shift. Off to bed to get up and do it all over again.
Saturday, Home Show Day 3
Saturday, April 1st was an eleven-hour doozy. Fun but a doozy! If you've ever been an exhibitor at any type of convention, you know how exhausting it can be but also rewarding. We talked to many homeowners who were interested in roofing, siding, decks, doors, and windows. We felt the excitement in the room; it was energizing and contagious. Kids running from booth to booth looking for freebies and parents trying to keep up.
Jon and Laura held down the fort from opening til close. They had a much-needed reprieve when our Lead Carpenter, Eddy Herrera, and Adam's cousin, Nicole Mitchell came to help out. Jon and Laura had a chance to leave the Convention Center and eat a delicious meal at Providence Coal Fired Pizza on Westminster Street in Providence, Rhode Island. Adam's cousin, Nicole is an upbeat, friendly woman who is made for events like this. She engages passersby and brings a smile to everyone's face. We were grateful Nicole came to support our company. Eddy is knowledgeable and personable. Eddy is the type of employee anyone would be lucky to have. He is a long-dedicated employee and friend of Seaberg Construction.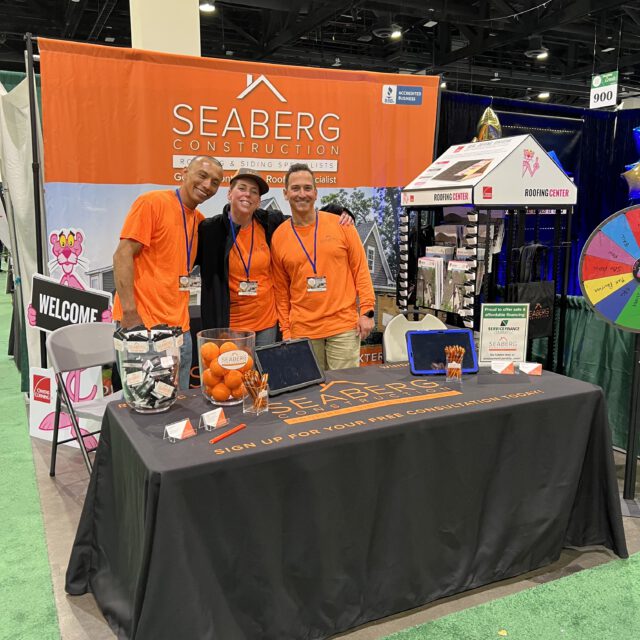 Sunday, Home Show Day 4
On day 4, we could see the light at the end of the tunnel. The last day of the show ran from 10 am to 5 pm. Functioning on caffeine and adrenaline to power through, Jon and Laura started the day off strong. Eddy and Nicole soon joined to help. We were passing out goodies like there was no tomorrow because there was no tomorrow, as far as the Home Show was concerned anyway. The more we give away, the less we have to lug back to our shop. Not to mention, the whole reason behind promotional items. Get them in the hands of potential future clients.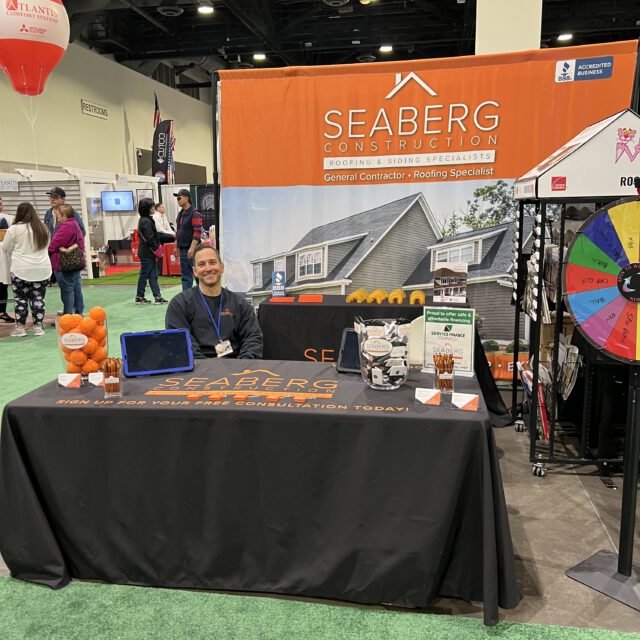 Sunday had a steady stream of homeowners looking for information about Seaberg Construction and in turn, requesting a consultation for their home.
Now that we have two years of exhibiting at the Rhode Island Home Show, we don't plan on stopping. It's a fun, albeit exhausting, time but worth it to get out into our community and be seen. The Rhode Island Home Show is an excellent source for homeowners looking to hire a contractor because there are several under one roof. We always urge our homeowners to get multiple quotes for a project. It keeps the industry honest and competitive.
We do want to thank the Rhode Island Builders Association for once again putting on a great event. We also have to thank our employees for working through the weekend and supporting our company as a team. We'll see you next year!
If you missed us at the 73rd annual Rhode Island Home Show and you'd like your project quoted, please fill out this form on our website: https://seabergconstruction.com/about-us-roofing-company/contact-us/
If you'd like to learn more about the upcoming 74th Rhode Island Home Show, click here.
If you'd like to become an exhibitor of the 74th annual Rhode Island Home Show, click here.
---
To read our Google Reviews from homeowners like you, visit: https://tinyurl.com/kkxwhx8k
For our current projects, updates, and more, follow us on Facebook: www.facebook.com/seabergconstruction
And Instagram! www.instagram.com/seabergconstruction
To contact us, please fill out this form on our website: https://seabergconstruction.com/about-us-roofing-company/contact-us/
To read more of Seaberg Construction's blog, visit: https://seabergconstruction.com/home-owners-information-center/