Ever wonder what goes on behind the scenes of our tv commercials? In early 2022, we're debuting our new tv commercial to air locally on WJAR NBC 10 and their subsidiary station MeTV.
After the contracts are signed, the fun part of filming begins. Prior to solidifying film locations, we've asked for the homeowner's permission to be on-site with a film crew. There's a lot to coordinate between our construction schedule and the tv channel's appointed freelance production team. Timing is everything and weather conditions are a make or break element. Luckily, the weather had been in our favor over the course of six film days.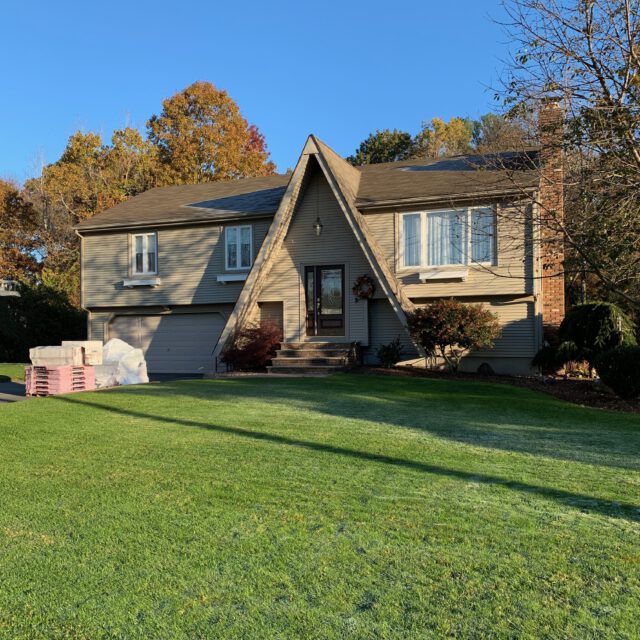 "Before" shot of the roof replacement used in our tv commercial.
Since roof replacements generally take a full day from start to finish, it's a long day of filming but if you blink, you might miss a crucial part of telling the story. The long awaited film day for the roof finally came and we met with the cameraman on-site around 7:00am. We discussed what to expect from our roofing crew and potential shots we'd hope to see in the final production.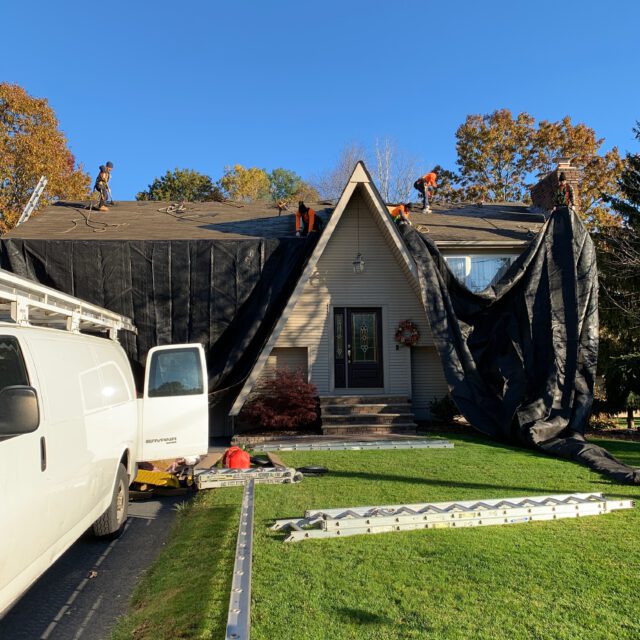 Roofing crew protects property with tarps from falling debris before stripping shingles.
Drone footage is captured throughout the process because let's be honest, there's only so much you can see from the ground and impressive overhead shots add much more interest to the viewer. A drone is essential to be able to grasp what is actually going on up there.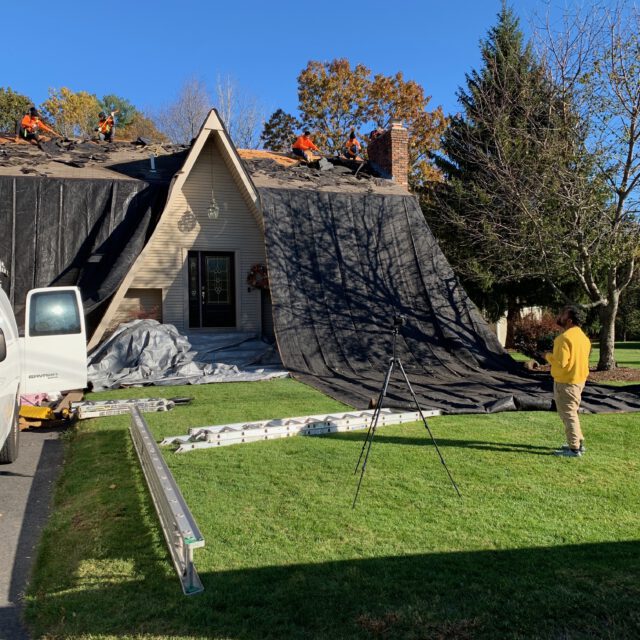 Drone camera operator takes shots of the roof replacement progress.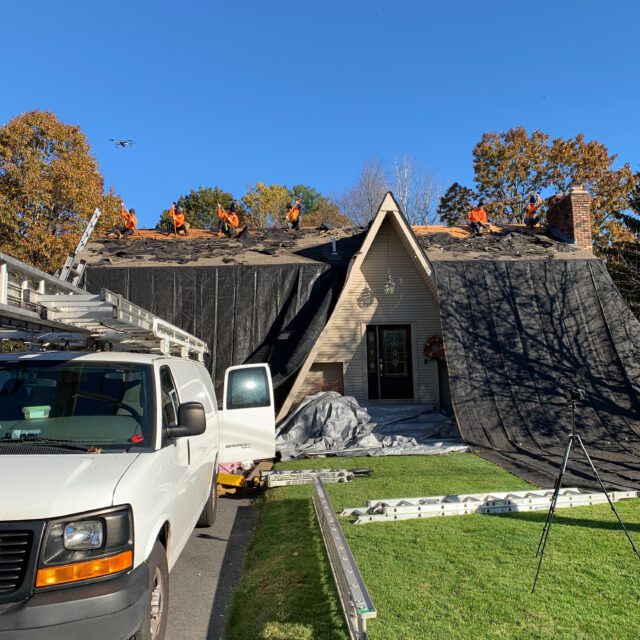 Drone flies overhead to achieve action shots like the one you'll see next.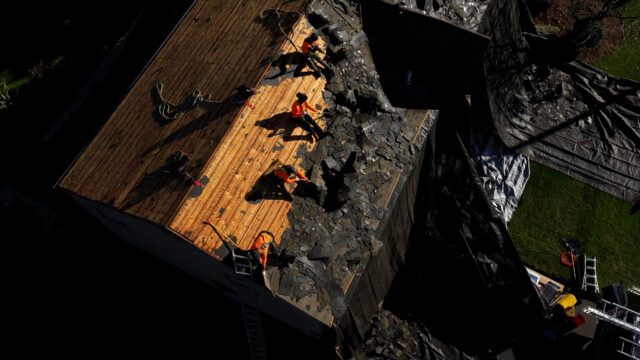 Bird's eye view of the roof replacement process from a drone.
Close to the end of the day, the camera crew packs up and plans to come back for "after shots" the next morning when the light is better and everything is cleaned up.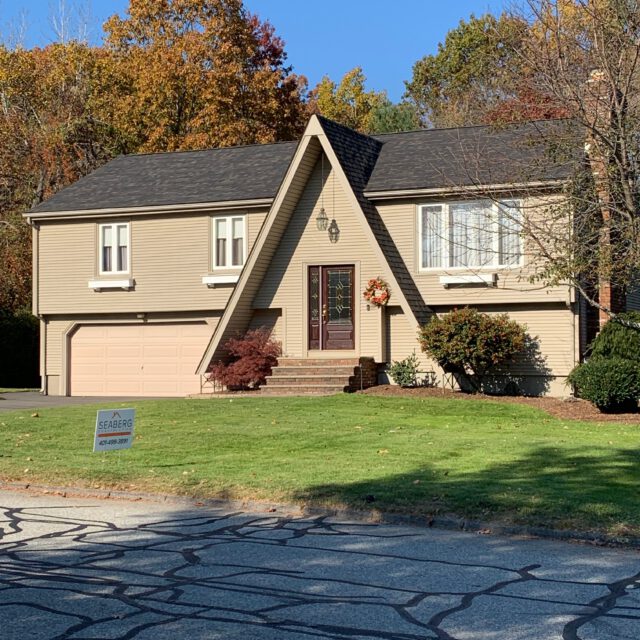 An "after" shot from the ground.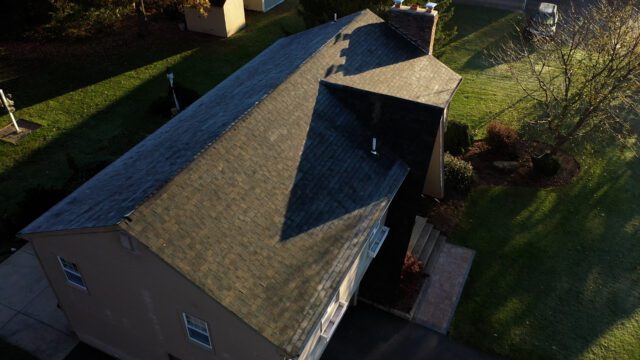 An "after" shot from a drone.
---
Film day one and two are complete and that concludes the footage needed for the roof replacement. We move on to filming a siding project. Siding projects can take anywhere from 5-7 business days, sometimes longer depending on the size and complexity of the house.
Our goal was to get some footage of the house before any work was done, some shots of the crew working and some beautiful after shots.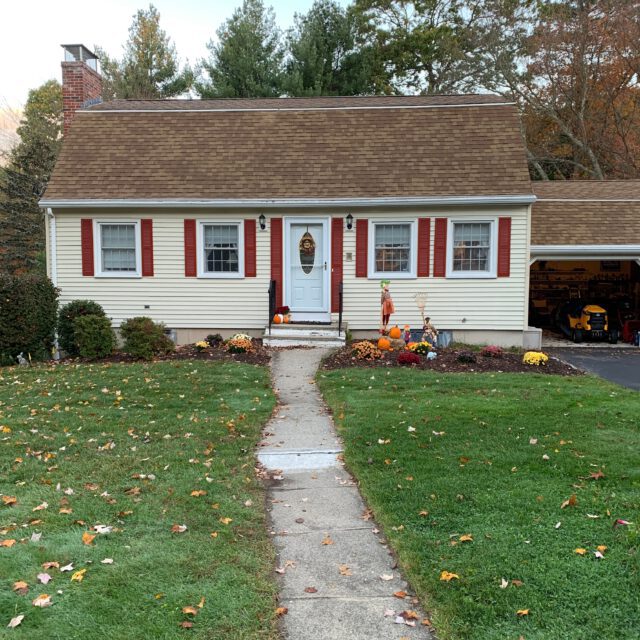 "Before" shot of our siding project.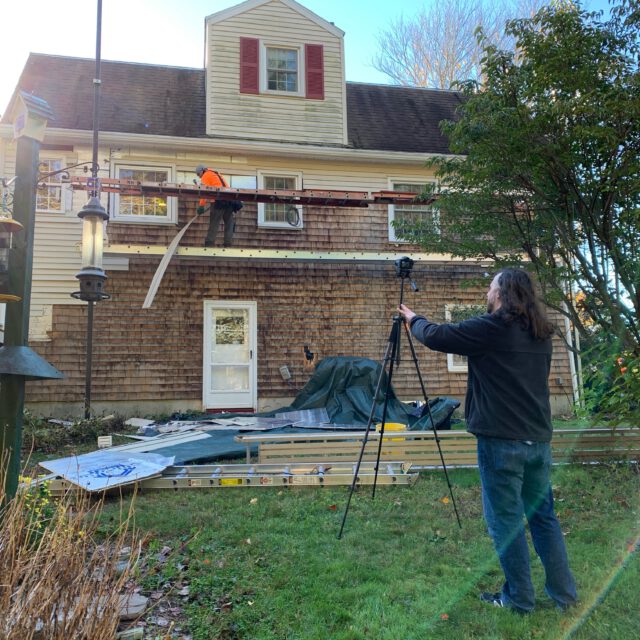 Production team takes shots of stripping old vinyl siding off of the back of the house.
Siding projects tend to be much slower paced for many reasons. We had several days in between film days to be able to capture more progress.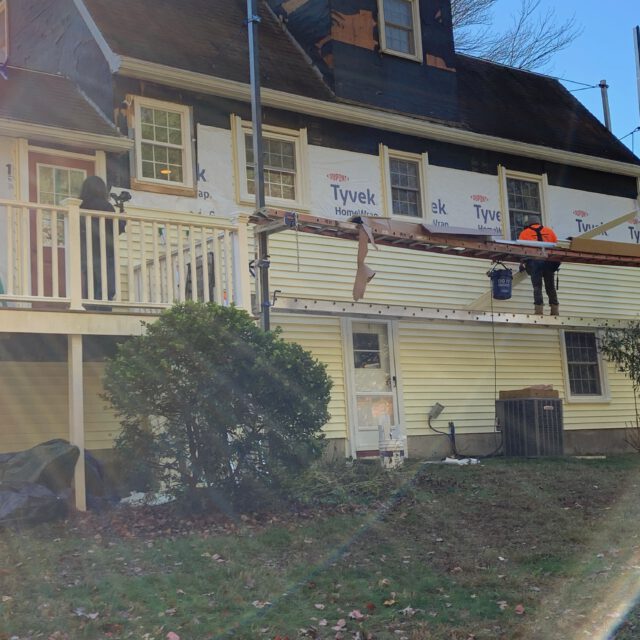 Vinyl siding has finally started after the house has been stripped and wrapped with waterproof paper.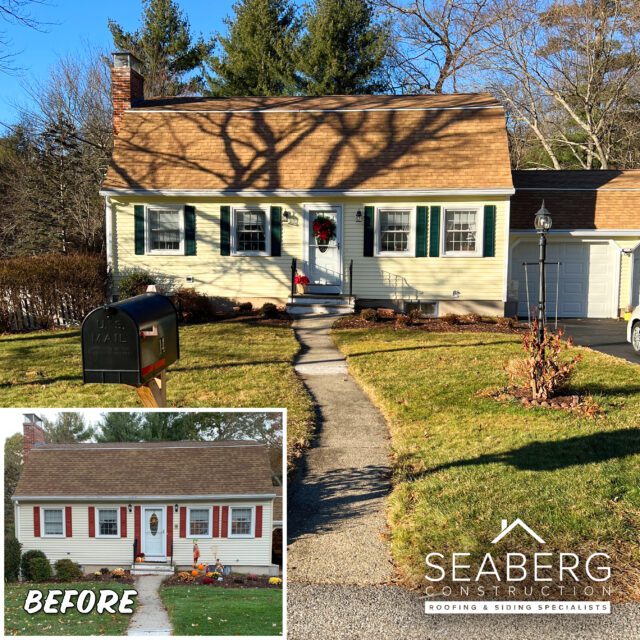 "Before" and "after" shots of the vinyl siding project.
Part of tv production is getting way more footage than you'll ever need for a thirty second commercial. You'd much rather have too much footage than wish you had more. This was the case with the siding project. We filmed there for 3 days but the final commercial has about 1 second of siding footage.
The fast paced roofing process was more conducive to the type of quick-take, high energy commercial that the production team's final cut delivered. One of our personal favorite shots was Adam speaking with the vinyl siding crew on-site. It made it all worthwhile in the end and to have footage on file for a potential future promotion is helpful.
---
The last piece of filming was to get Jon and Adam in front of the camera. We've shot two other tv commercials with a similar format to this one where the production team films the guys in front of our logo sign in the showroom/conference area of our office building.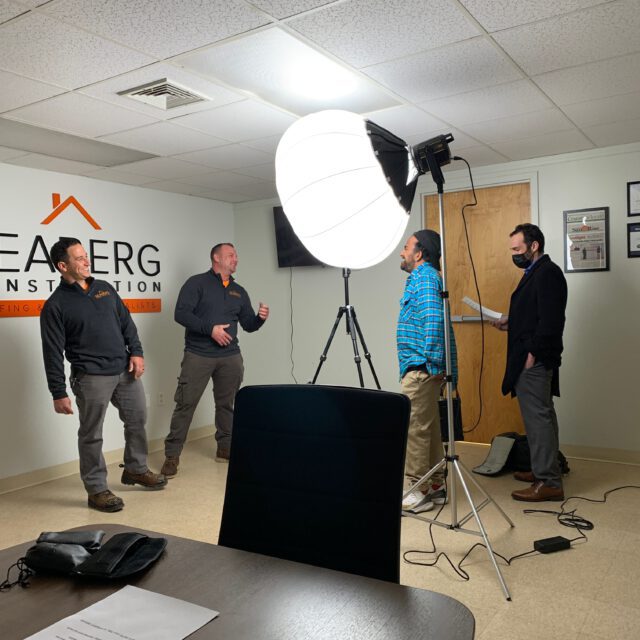 Co-owners Jonathan Rezendes and Adam Seaberg with the production crew.
And the moment we've all been waiting for…here is our commercial:
Thanks for watching!
---
To read more of Seaberg Construction's blog, visit: https://seabergconstruction.com/home-owners-information-center/
For our current projects and updates, follow us on Facebook: www.facebook.com/seabergconstruction
And Instagram! www.instagram.com/seabergconstruction