Some of our new readers may not know the full scope of services offered by Seaberg Construction. Here is a full rundown of the history of co-owners, Adam Seaberg and Jon Rezendes' backgrounds, experience and services we provide.
Meet Co-Owner, Adam Seaberg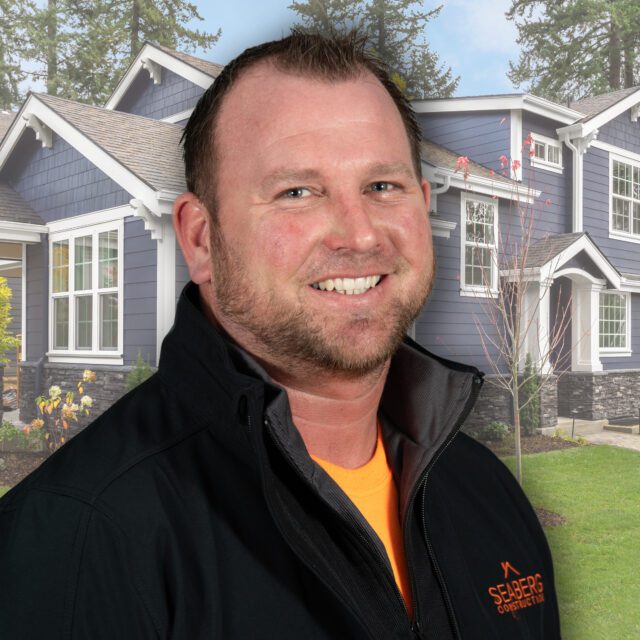 Adam Seaberg grew up in Johnston, Rhode Island and founded Seaberg Construction in 2006. Adam was first exposed to the construction industry at age 16. Early on, learning the tools of the trade became second nature and as Adam's passion grew, he knew this was the correct path for him.
Adam handles the roofing and siding consultations for Seaberg Construction and manages the roofing and siding projects from start to finish. As the President and Head of Operations of Seaberg Construction, Adam multi-tasks daily while managing several crews, projects and employees. Adam is never afraid to get his hands dirty and dive in head first to any project. With over 20 years of experience on job sites, doing the job right the first time is an easy task for Adam.
Adam resides in Chepachet, Rhode Island with his wife, Kassandra, their three young boys and their doberman, Godzilla. In Adam's free time, he enjoys ATV riding, gardening and spending time with his family. Adam takes pride in homeownership and finds satisfaction in bringing that same sensibility to his clients.
Meet Co-Owner, Jon Rezendes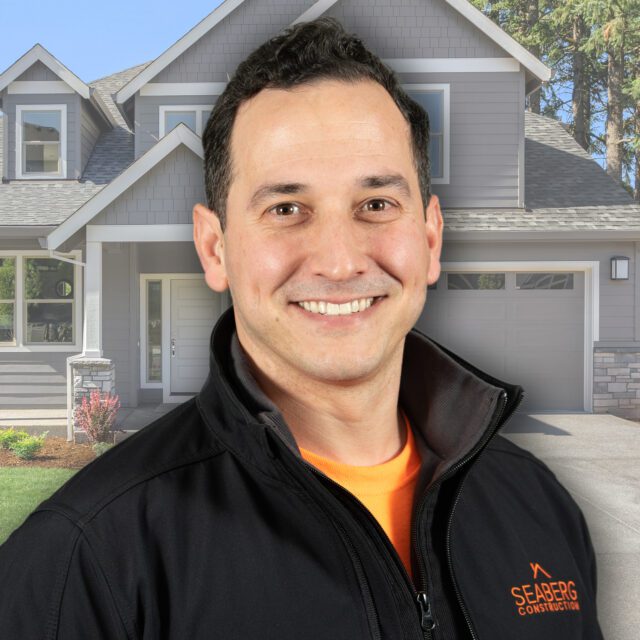 Jon Rezendes is a lifelong resident of Rhode Island and has been working in the construction industry since the young age of 13. By his early 20's, Jon found himself singlehandedly running the company he worked for and knew he was ready to venture out on his own. In the years to follow, Jon confidently grew his small roofing company into a well-respected construction outfit.
Jon's background in roofing and carpentry proved to be a valuable asset to compliment Seaberg Construction when they joined forces in 2016. Jon handles and oversees the carpentry division of Seaberg Construction from top to bottom. As Vice President of Seaberg Construction, Jon is also responsible for the company's finances, administrative duties and marketing campaigns alongside the Office Manager, Laura. With almost 30 years experience, Jon's construction expertise, integrity and ethical character are unmatched.
Jon lives in Manville, Rhode Island with his wife, Jenna and their dog, Linus. In Jon's downtime, he enjoys hiking, camping and traveling all over the United States in their self-converted van RV. Jon has lived in his 122 year old home in Manville for the last 20 years. Understanding the trials and tribulations of owning an older home has only grown Jon's wealth of knowledge and he enjoys educating homeowners in the same boat.
Seaberg Construction's Services
Roof Replacements, Layovers and Repairs
With over 50 years combined roofing experience between Adam and Jon, there isn't much they haven't seen. Adam or Jon will come out to your home to discuss your questions and concerns regarding your roof. Adam or Jon will confidently provide their professional opinion and you can trust they are the right team to install your new roof.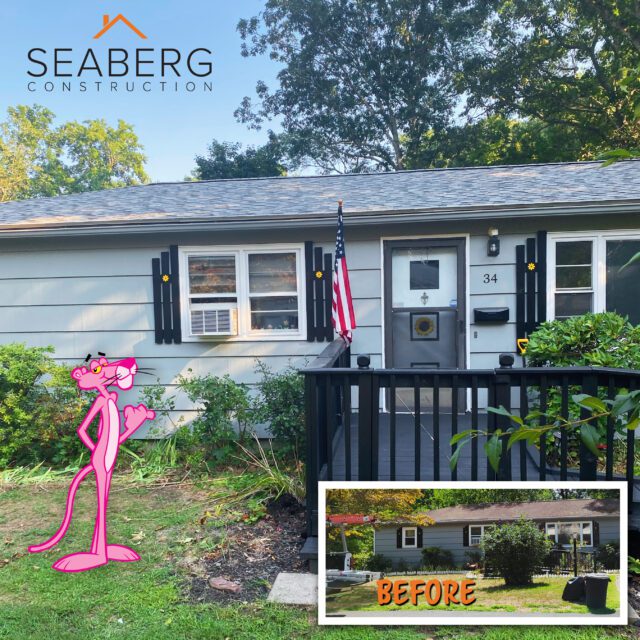 Roof replacement with Owens Corning Duration Shingles in Sierra Gray.
---
Vinyl, Stone Facade and Wood Siding
Adam takes pride in staying on top of new siding products, trends and proper installation of the major siding brands in the industry. In the end, we want you to have the home of your dreams. The customization options are endless and we're here to guide you every step of the way.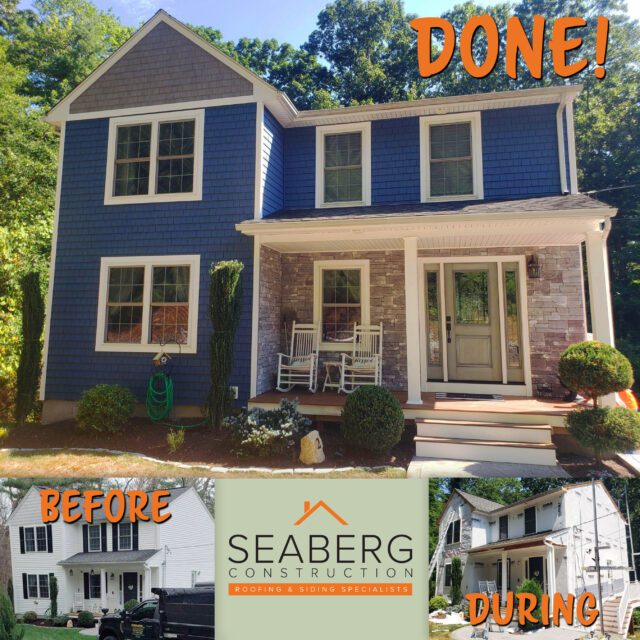 Mastic Cedar Discovery Triple 5 in Cape Gray on front peak.
Mastic Cedar Discovery Triple 5 in Newport Bay on front of house.
Mastic Double 4 Carvedwood in Newport Bay on sides and back of house.
Certainteed Stone Facade in Adirondack Snowfall on porch area.
---
Carpentry Division
Within the carpentry division of Seaberg Construction, we offer:
• Decks
• New construction and replacement windows
• Doors
• Additions
The carpentry division is headed by Jon and new to Seaberg Construction as of Jon and Adam's company merge. Seaberg Construction trusts in Jon's 30 plus years of carpentry experience and we hope you will too!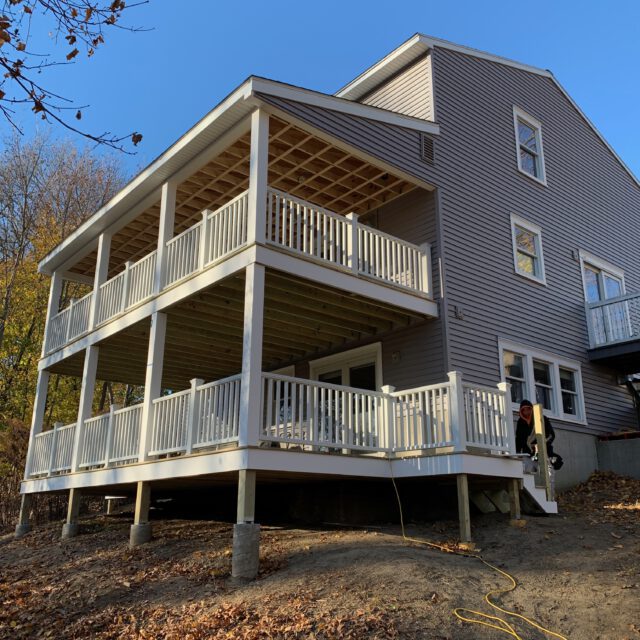 CertainTeed Monogram Double 4 vinyl siding in Granite Gray.
Double decker porch construction in progress.
---
Dumpster Rentals
Seaberg Construction has a disposal division called Seaberg Disposal. Seaberg Construction originally bought dumpsters to use for our own projects. Then, quickly realized the high demand for rentals. Homeowners and business owners starting asking how much we charge and it's grown from there. To learn more and see pricing, visit: https://seabergconstruction.com/disposal/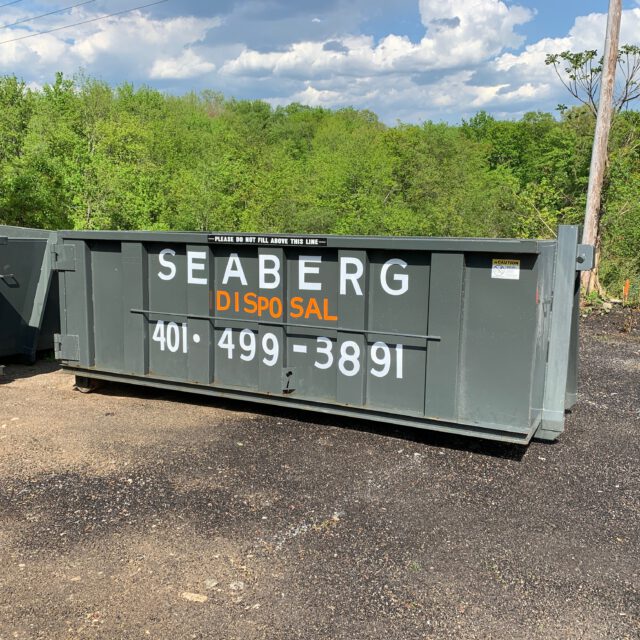 ---
Seaberg Construction has built our reputation on integrity, honesty and trust. We only hire trustworthy employees and skilled craftsmen. We know it's important for you to feel comfortable with who is working in and around your home.
With neither Jon nor Adam having a background in sales and no salesmen on staff, you will find we don't use any sales gimmicks or tactics. We try to present you with enough knowledge to make an informed decision by yourself. There's no two hour in-home sales presentation. Jon or Adam comes to your home for pictures, measurements and to answer any questions you have. An estimate is generated based on the consultation and emailed to you. After a few days, we follow up via email to see if you have any more questions. That's it. We won't call you incessantly or pressure you in any way. If you want to work with us, we'd love to work with you!
Let us know how we can make your home improvement dreams come true: https://seabergconstruction.com/about-us-roofing-company/contact-us/
---
To read more of Seaberg Construction's blog, visit: https://seabergconstruction.com/home-owners-information-center/
For our current projects, updates and more, follow us on Facebook: www.facebook.com/seabergconstruction
And Instagram! www.instagram.com/seabergconstruction
To read our Google Reviews from homeowners like you, visit: https://tinyurl.com/kkxwhx8k
To contact us, fill out this form on our website: https://seabergconstruction.com/about-us-roofing-company/contact-us/