You're cleaning out your basement or you have a DIY home remodel project, but how do you get rid of the stuff that your weekly town trash pick up won't take? Rent a dumpster! Seaberg Disposal offers 15 yard dumpster rentals to homeowners. Here's some FAQ: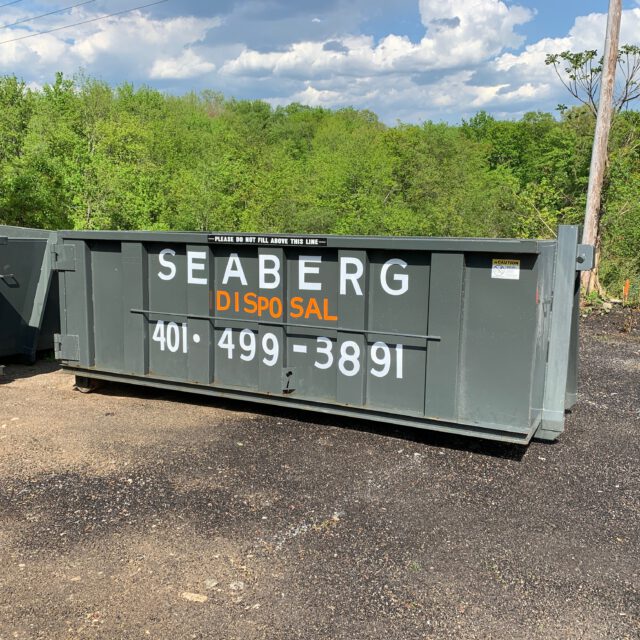 How do I rent a dumpster?
Call or text 401-499-3891 to set up a delivery time/date.
Where will you put the dumpster?
Typically, we put the dumpster in your driveway but some towns allow dumpsters to be placed on the street.
How big are the dumpsters?
We have 15 yard dumpsters available for rent. The container measures 14 feet long x 8 feet wide x 5 feet high. This size dumpster typically holds 15 cubic yards of debris which is about 70-90 13-gallon trash bags!
How long can I keep the dumpster?
Our rental periods are for 7 days. If you need the container longer, there's an additional charge of $10 per extra day pending we have the available inventory to accommodate.
How soon can I get a dumpster?
Depending on availability, sometimes we are able to drop off a dumpster same day.
What does the rental cost?
The dumpster rental costs $425 which includes the 7 day rental period and 1 ton of waste. Any weight over 1 ton costs $135 per ton.
Are there any additional fees?
The landfill charges extra to dispose of the following items: mattresses/boxsprings, refrigerators and tires. After we pick up and dispose of your waste, we will add any applicable fees for the items above to your total invoice. The fees apply per item.
There is a $40 flat fuel surcharge fee if the requested rental is over 25 miles outside of our dumpster yard in Johnston, Rhode Island.
Is there anything I can't dispose of?
We cannot accept dumpsters with highly flammable or acidic items because it is a risk for our employees and the landfill will not allow it. Please contact the State of Rhode Island for more information on how to safely dispose of such items.
If you have more questions, we're here to answer them! Call or text 401-499-3891.
---
To read more of Seaberg Construction's blog, visit: https://seabergconstruction.com/home-owners-information-center/
For our current projects and updates, follow us on Facebook: www.facebook.com/seabergconstruction
And Instagram! www.instagram.com/seabergconstruction