And the winner is…Owens Corning TruDefinition® Duration® Designer Shingle in Aged Copper. There's no doubt why Aged Copper was picked for shingle color of 2021. It's a stunning combination of deep orange, sage and brown yet looks a little different with every color palette. This versatile blend is sure to add curb appeal to your home with its earthy tones and distinctive look.
---
Aged Copper Shingles with Cool Blue Grey and Warm Brown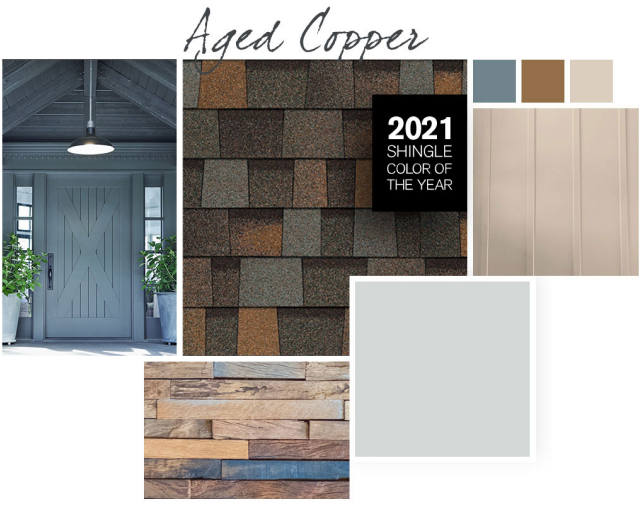 This color combination of blues and browns has proven to be timeless. Using accents of cool blue greys and warm browns creates a calming, seamless look by enhancing the natural tones of the shingles.
---
Aged Copper Shingles with Hunter Green, White and Weathered Grey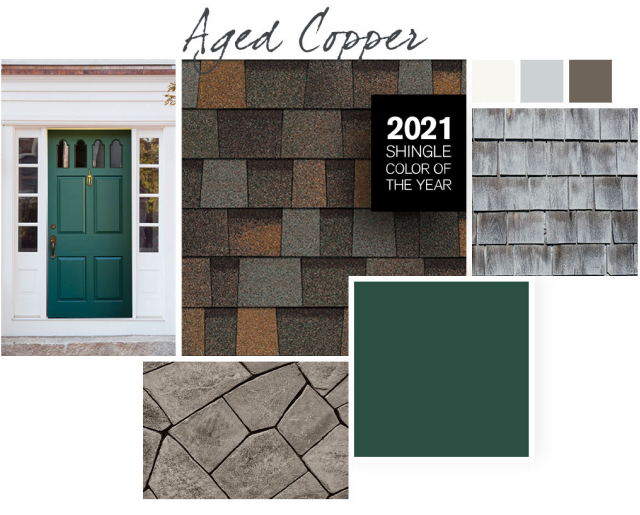 The hunter green accent shade contrasts the deep orange granules while also intensifying the sage granules. Hunter green surrounded by crisp white is screaming a traditional New England colonial vibe, which we love.
---
Aged Copper Shingles with Dark Brown, Warm Caramel and Sage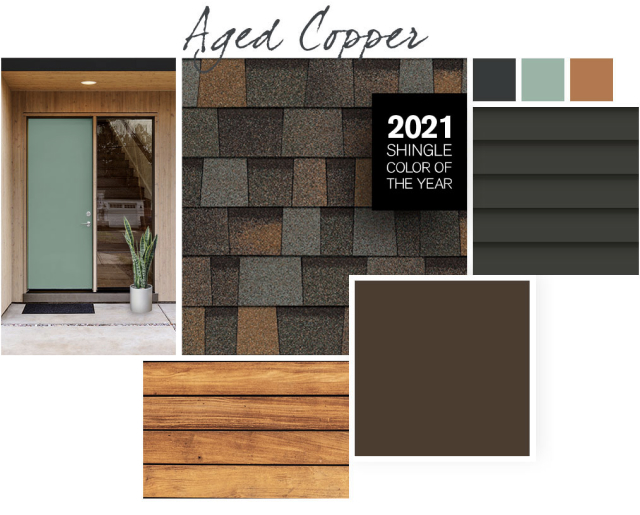 What a clean, contemporary look with a spa-like color palette. The way the sage pulls out the subtle hints of green within the grey-ish toned shingles really gives the shingles a whole new look that we haven't seen with the other color palettes.
---
Aged Copper Shingles with Shades of Taupe and Sea Green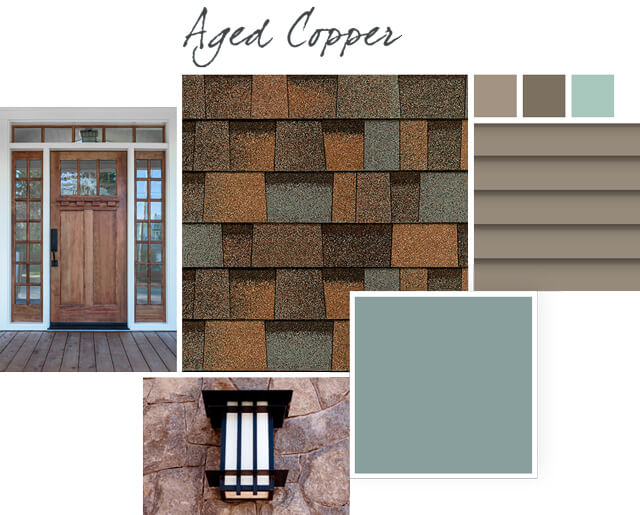 Talk about a calming effect. The way the sea green plays off the sage shingles brings out the bluish tones in the shingles that didn't seem to be there before.
We've seen a multitude of accent shades which all give these versatile shingles a whole new look. This is a real advantage because with a new door or new paint, you can get a brand new look without much effort or expense. When choosing a shingle color, it's crucial to think long term because it may not always be you under that roof.
Click the link below to upload pictures of your own house to "try on" different shades of shingles: https://www.owenscorning.com/en-us/roofing/roof-visualizer?src=rfg
To learn more about Owens Corning TruDefinition® Duration® Designer shingle color of the year, visit: http://shinglecoloroftheyear.com/
For more color palettes and inspiration, visit: https://seabergconstruction.com/design-your-roof/
---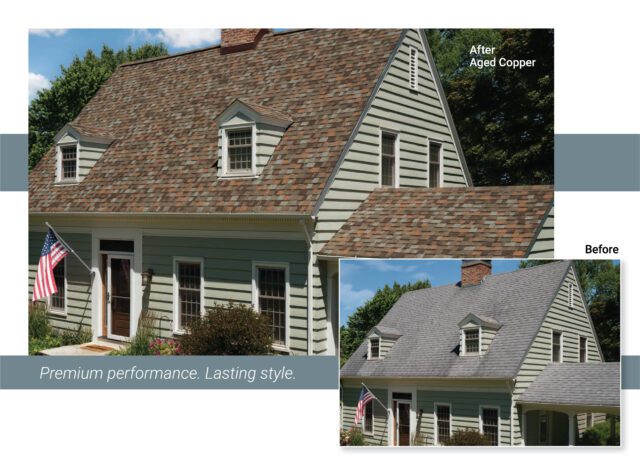 ---
To read more of Seaberg Construction's blog, visit: https://seabergconstruction.com/home-owners-information-center/
For our current projects and updates, follow us on Facebook: www.facebook.com/seabergconstruction
And Instagram! www.instagram.com/seabergconstruction