When it comes to vinyl siding anatomy, you might not know the lingo. Understandable since you've probably never replaced your vinyl siding before or it's been so long, the standard vinyl siding terms may have changed. Whatever the case, we've provided the ultimate guide to understanding what your contractor is talking about or, even more importantly, what they aren't talking about.
'The Fun Part' of Vinyl Siding Components
We like to call this the 'fun part' because these are the vinyl siding components you can choose colors and profiles to make your house, your own. You have free reign (within your budget, of course) to select the colors of your products below to give your home personality.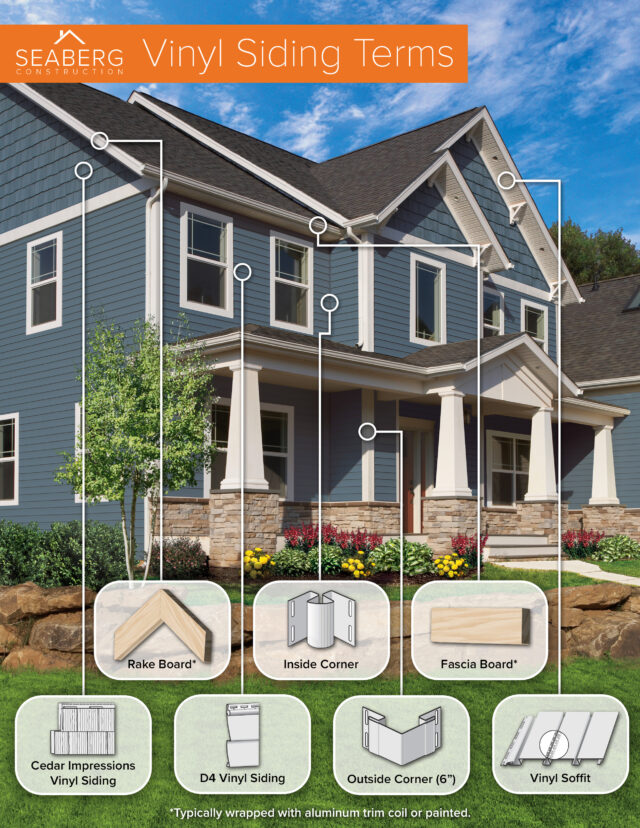 What is a rake board?
You might hear your contractor refer to the 'rakes' of your house. The rakes of your house run along the slope of your roof. A rake board is a trim that prevents water from infiltrating behind your vinyl siding. A rake board can be made of maintenance-free PVC or more commonly, wood. The wood can be painted any color of the rainbow or covered in the aluminum trim coil. The aluminum trim coil is available in a variety of colors but is limited by the manufacturer. If you decide the paint your rake boards, you have a whole world of colors to choose from but keep in mind, you'll have to paint over and over again. Seaberg Construction typically recommends and installs aluminum trim coil wrap.
What is a fascia board?
A fascia board runs along the roof's lower edge, often behind the gutter system. Serving the same purpose as the rake board; to prevent water infiltration. The rake board essentially sits on top of the fascia board providing stability. Your contractor with probably say 'rakes and fascia' a handful of times. Again, this doesn't have to be wrapped in the white aluminum trim coil if you don't want it to be.
What is an inside corner?
A vinyl inside corner has a receiving channel that hides the ends of siding panels for a finished, professional vinyl siding installation. These are installed anywhere at which two walls form an internal angle, as in the corner of a room. Some houses have inside corners and some do not. Typically, Seaberg Construction matches inside corners to the vinyl siding color to camouflage the corner. Inside corners are mainly for utilitarian purposes and not necessarily design accents but if you have your heart set on white or any other color, we won't stop you.
What is an outside corner?
Much like an inside corner, a vinyl outside corner protects the corners of your home from damage and has a receiving channel that hides the ends of siding panels for a finished, professional vinyl siding installation but you can choose the color. Outside corners are installed where your home forms external corners. Every home has them, even the simplest architecture. Think of the corners of a box. Out of the homeowners we've serviced, most choose white outside corners but it is your preference. Matching them to your siding color or choosing a completely different contrasting color is your prerogative.
What is a vinyl soffit?
Vinyl soffit is used as the exposed undersurface of the roof overhang above the exterior siding. The vinyl soffit that is visibly perforated or contains a hidden vent feature provides the air intake needed for proper airflow in attics, and for controlled temperatures indoors. Vented soffits are generally used as part of a ventilation system to protect your home from extreme temperatures and moisture. If your contractor has installed a solid soffit, you likely have another type of ventilation system in place. Seaberg Construction typically installed white soffit but if you would like it another color, we'd be more than happy to make your vision come to life.
What is D4 vinyl siding?
D4 stands for Double 4". In the simplest terms, it means one panel of vinyl siding has two rows of siding and each row is four inches tall. This is the most common vinyl siding profile currently. Often homeowners choose to do their entire home in D4 vinyl siding as this is one of the most cost-effective routes.
What is Cedar Impressions vinyl siding?
Cedar Impressions is a trademarked name by CertainTeed but it's much like how we use the word Kleenex for all tissues, regardless of brand. Cedar Impressions is a vinyl siding product meant to mimic the look of stained or painted cedar shakes without heavy upkeep. CertainTeed offers their Cedar Impressions line in a D7 or T5 profile which means Double 7" and Triple 5", respectively. Cedar Impressions is considered a premium upgrade. Homeowners often put D4 on the sides and back of their homes and opt for Cedar Impressions on the front only to maximize curb appeal while maintaining their budget.
---
'The Necessary Part' of Vinyl Siding Components
Now that we've gotten through the fun part, here are the technical and necessary components that make the whole vinyl siding system work seamlessly. Your contractor will likely throw the following terms around.
What is house wrap?
House wrap or commonly referred to as paper is a strong, fibrous barrier installed over the wall sheathing to prevent moisture buildup and rot. The idea behind house wrap is that it blocks water and moisture from entering from the outside but allows moist air to pass through from the inside. The diagram below shows a cross-section of the wall; starting with sheetrock, studs and insulation, plywood, house wrap, and finally vinyl siding.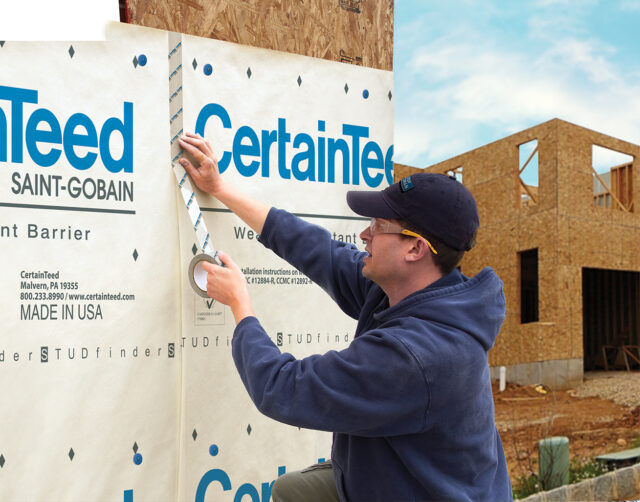 Installation of house wrap using tape to secure seams and prevent water infiltration.
What is j-channel?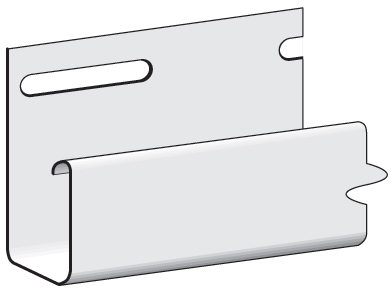 J-channel is trim specifically designed to go around your home's opening, i.e., windows and doors. It's also installed where the walls meet the soffit. J-channel gets its name from, you guessed it, its J shape. J-channel covers the cut ends of the vinyl siding for a polished, completed look. Seaberg Construction generally matches j-channel to the color of your siding unless requested otherwise. Sometimes wider j-channel is used around windows to create a trim detail. In this application, the j-channel is usually white to mimic a wood trim.
What is a gable vent?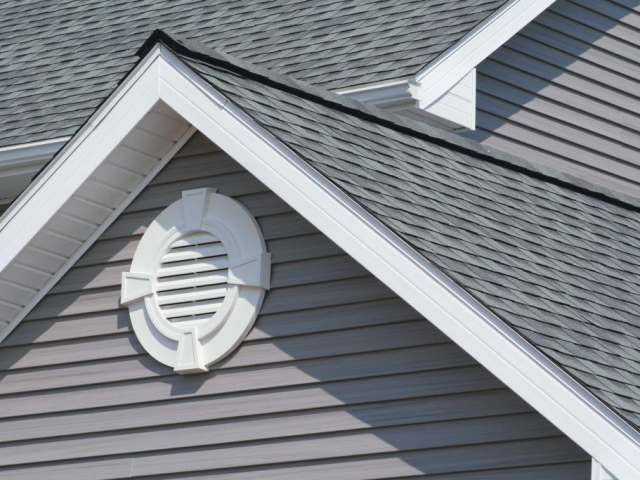 Gable vents are the vents on the exterior walls of a home's attic to allow for proper airflow. They are not installed in every house, depending on your ventilation system. Gable vents aid in regulating the temperature in your attic to prevent extreme conditions. In the Summer, gable vents help to get rid of excess hot, humid air. In the Winter, the gable vents keep your attic at a more even temperature. If your attic is too hot and dry, it causes critters to nest or mold growth.
What is undersill trim?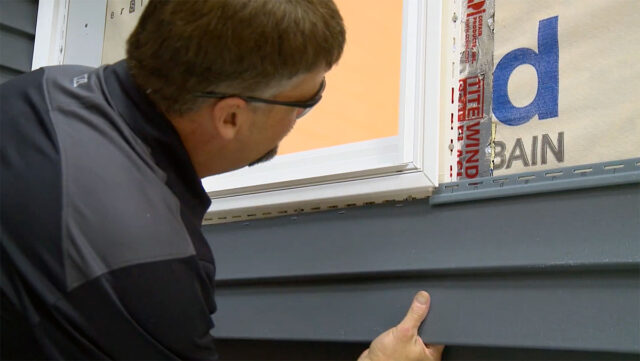 Undersill trim, also known as utility trim or finish trim, is a piece of trim used when a siding panel has been cut horizontally to fit a space, i.e, under a window opening. The undersill trim helps to secure the siding panel to the building.
What is a mounting block?

A mounting block is used to wrap around or go behind lights, receptacles, water spigots, and electrical meters. You'll hear your contractor say light block, mini split block, or meter block. Mounting blocks are usually white but can be color matched to vinyl siding to blend in. It is your preference.
---
Vinyl siding your home is an investment. Being able to decipher what your contractor is saying is priceless. It's easy for a homeowner to be intimidated by a contractor's lingo but never be afraid to ask questions. Your contractor should be happy to help and guide you through this process.
If you'd like a vinyl siding quote from Seaberg Construction, please fill out this form: https://seabergconstruction.com/about-us-roofing-company/contact-us/
---
To read our Google Reviews from homeowners like you, visit: https://tinyurl.com/kkxwhx8k
For our current projects, updates and more, follow us on Facebook: www.facebook.com/seabergconstruction
And Instagram! www.instagram.com/seabergconstruction
To contact us, please fill out this form on our website: https://seabergconstruction.com/about-us-roofing-company/contact-us/
To read more of Seaberg Construction's blog, visit: https://seabergconstruction.com/home-owners-information-center/